SSH Editors and Editorial Board
---
Co-Editors
Kris Inwood, Economics and History, Guelph University, Canada
Rebecca Jean Emigh, Sociology, University of California, Los Angeles, USA


Managing Editor
Jeffrey K. Beemer, Sociology, Social Science History Association, USA


Editorial Board
Amy Kate Bailey, Sociology, University of Illinois at Chicago, USA
Andrew Curley, Geography, University of Arizona, USA
Martin Dribe, Economic Demography, Lund University, Sweden
Lance Freeman, Sociology, University of Pennsylvania, USA
Danielle Gauvreau, Sociology and Anthropology, Concordia University, Canada
Joseph Jewell, Sociology, Texas A&M University, USA
Kimberley Johnson, Political Science, New York University, USA
Susan Leonard, ICPSR, University of Michigan, USA
Robert Lieberman, Political Science, Johns Hopkins University, USA
Mary Jo Maynes, History, University of Minnesota, USA
Angel Adams Parham, Sociology, University of Virginia, USA
Tawney Paul, History, University of California, Los Angeles, USA
Silvia Pedraza, Sociology, University of Michigan, USA
Tirthankar Roy, Economic History, London School of Economics, UK
Sakari Saaritsa, Economic and Social History, University of Helsinki, Finland
Carol Shiue, Economics, University of Colorado, Boulder, USA
Ken Sylvester, History, ICPSR and University of Michigan-Flint, USA
Jessica Vechbanyongratana, Economics, Chulalongkorn University, Thailand
Marlous van Waijenburg, Economics, Harvard University, USA
Dingxin Zhao, Sociology, University of Chicago, USA
Announcements
2023 Annual Conference submissions now open
SSHA is now accepting paper and session submissions for the 2023 Annual Conference. Please visit our submission portal ssha2023.ssha.org to submit a paper or session proposal by March 1, 2023.
---
Standard of Living
Essays on Economics, History, and Religion
in Honor of John E. Murray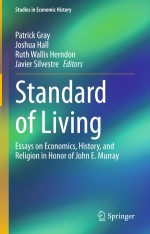 Please read about a new anthology that honors the life and work of American economist John E. Murray, a long-time member of and dear friend to the Social Science History Association.
---
SSHA Call for Papers
49th Annual Meeting of the Social Science History Association

Washington DC, USA, November 16-19, 2023
Submission Deadline: March 1, 2023
Pursuits of Wellbeing
---
Supporting SSHA
SSHA Twitter Feed
@SocSciHist