Social Science History Association
Interdisciplinary perspectives on the past
Pursuits of Wellbeing
SSHA 2023 will be held at the Hyatt Regency Washington on Capitol Hill
Washington DC, USA
The Social Science History Association is an interdisciplinary organization that publishes a journal, Social Science History, organizes an annual conference, supports graduate student travel to the conference, and awards book and article prizes.

With scholars from history, economics, sociology, demography, anthropology, and other social sciences, the association brings together scholars in thematic networks where they can explore common questions.

Each network organizes its own call for papers and selects the bulk of the papers to be presented at the annual conference. This open, flexible, and non-hierarchical structure makes these networks particularly welcoming spaces for younger scholars and invigorating tonic for more seasoned academics.
---
SSHA 2022 Conference Award Winners
Allan Sharlin Memorial Book Award
| Book Award Winner | Honorable Mention |
| --- | --- |
| | |
| | |
---
Announcements
Conference Updates from SSHA President Anne McCants
Please read SSHA President Anne McCants's letter on the 2023 annual conference (see link below). Anne provides updated information on this year's conference format, new registration fees, and the extended submission deadline which is fast approaching.
Conference updates from SSHA President Anne McCants

---
2023 Conference Submission Deadline Extended
The deadline for submissions has been extended to March 17th. There's still time! Please visit ssha2023.ssha.org to submit a paper or session proposal by March 17th for the 2023 SSHA Annual Conference in Washington DC.
---
2023 Annual Conference submissions now open
SSHA is now accepting paper and session submissions for the 2023 Annual Conference. Please visit our submission portal ssha2023.ssha.org to submit a paper or session proposal by March 1, 2023.
---
Standard of Living
Essays on Economics, History, and Religion
in Honor of John E. Murray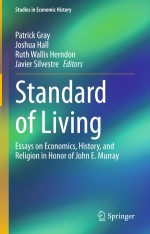 Please read about a new anthology that honors the life and work of American economist John E. Murray, a long-time member of and dear friend to the Social Science History Association.
---
SSHA Call for Papers
49th Annual Meeting of the Social Science History Association

Washington DC, USA, November 16-19, 2023
Submission Deadline: March 1, 2023
Pursuits of Wellbeing
---
Supporting SSHA
SSHA Twitter Feed
@SocSciHist