SSHA Networks
---
With scholars from history, economics, sociology, demography, anthropology, and other social sciences, the association brings together scholars in thematic networks where they can explore common questions. Each network organizes its own call for papers and selects the bulk of the papers to be presented at the annual conference. This open, flexible, and non-hierarchical structure makes these networks particularly welcoming spaces for younger scholars and invigorating tonic for older academics.
Childhood
Crime, Justice, and the Law
Culture
Data Infrastructure
Economics
Education, Knowledge, and Science
Family History and Demography
Health, Medicine, and Body
Historical Geography and GIS
Labor
Macrohistorical Dynamics
Migration/Immigration
Politics
Race and Ethnicity
Religion
Rural, Agricultural and Environmental
States and Society
Urban
Women, Gender and Sexuality
Announcements
2023 Annual Conference submissions now open
SSHA is now accepting paper and session submissions for the 2023 Annual Conference. Please visit our submission portal ssha2023.ssha.org to submit a paper or session proposal by March 1, 2023.
---
Standard of Living
Essays on Economics, History, and Religion
in Honor of John E. Murray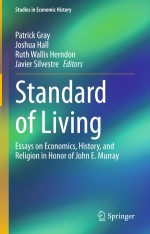 Please read about a new anthology that honors the life and work of American economist John E. Murray, a long-time member of and dear friend to the Social Science History Association.
---
SSHA Call for Papers
49th Annual Meeting of the Social Science History Association

Washington DC, USA, November 16-19, 2023
Submission Deadline: March 1, 2023
Pursuits of Wellbeing
---
Supporting SSHA
SSHA Twitter Feed
@SocSciHist