Data Infrastructure
The Data Infrastructure Network is interested in broadly addressing issues and themes related to creating datasets for social science history, large and small, and the infrastructure required to support them. We intend to cast a wide net when discussing "data infrastructure," and topics of interest may include: technology, data capture, sustainability, findability, interoperability, metadata, funding, methodology, collaboration, harmonization, data linkage, and builders of the data. The Data Infrastructure Network is happy to co-sponsor relevant data-intensive sessions with other SSHA Networks, including Economics, Family History and Demography, and Historical Geography and GIS networks, and others.
2022 Sessions
New Linked Data Infrastructure: Census Data, Registries, and Vital Records
Full Count Census Data: Record Linkage and Databases
Sustaining Social Science Infrastructure Into the Future (roundtable)
Innovations in Data Infrastructure
Mobilizing Census Data: Key Infrastructure Developments
Planning 2023 Sessions
After an enthusiastic launch to the Data Infrastructure Network at SSHA 2022, planning for SSHA 2023 is underway! Data Infrastructure Network meeting attendees began brainstorming topics/themes and potential contributors for SSHA 2023 sessions. The planning spreadsheet is available to view. The network reps invite your contributions and are available to assist with creating a session or submitting a paper.

2023 SSHA Call for Papers
Network Representatives
Announcements
2023 Annual Conference submissions now open
SSHA is now accepting paper and session submissions for the 2023 Annual Conference. Please visit our submission portal ssha2023.ssha.org to submit a paper or session proposal by March 1, 2023.
---
Standard of Living
Essays on Economics, History, and Religion
in Honor of John E. Murray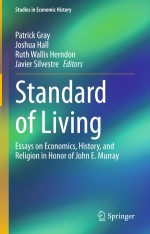 Please read about a new anthology that honors the life and work of American economist John E. Murray, a long-time member of and dear friend to the Social Science History Association.
---
SSHA Call for Papers
49th Annual Meeting of the Social Science History Association

Washington DC, USA, November 16-19, 2023
Submission Deadline: March 1, 2023
Pursuits of Wellbeing
---
Supporting SSHA
SSHA Twitter Feed
@SocSciHist